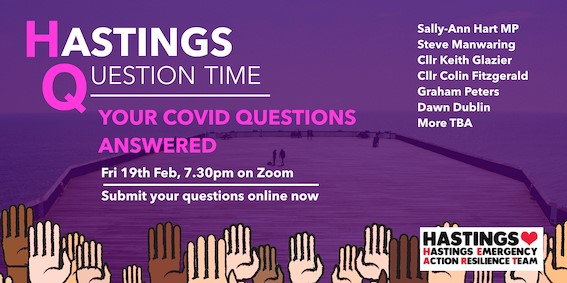 In a major online broadcast event, top civic leaders from across Hastings and East Sussex are coming together to answer questions from the community on Friday 19th February at 7:30pm.
Hastings Question Time will see a host of civic leaders answering burning questions about Covid-19 and the future of Hastings & St.Leonards in a live event attended by up to 1000 people – and broadcast to 1000's more via social media.
Organised by HastingsHEART, the volunteer group supporting people throughout the pandemic, Hastings Question Time will see expert panellists answer questions put to them by members of the public for the first time since the onset of Covid-19.
Panellists answering questions on the night include local MP Sally-Ann Hart, East Sussex County Council Leader Keith Glazier, and Colin Fitzgerald, the Deputy Leader of Hastings Borough Council. They'll be joined by representatives from the NHS, voluntary and business communities to discuss the key challenges ahead as the town tackles the twin challenges of health crisis and economic pressure.
Organisers are calling on residents to send in their questions using a simple online form, the link is below. 
Following the familiar format of the BBC's popular "Question Time" programme, HastingsQT is being staged as a key part of the town's wider campaign to join forces in driving Covid-19 infection rates down to zero, and tackle the complex challenges it faces going forward. As a result, the hour-long broadcast will focus first on answering questions on Covid-19, with its second half asking 'Hastings – what next?'
Submit your questions online here: bit.ly/HQTQuestions
Register for the zoom here: http://bit.ly/370if1C
Facebook Event: https://fb.me/e/4clW5eeO5
Facebook Video: https://www.facebook.com/112292763760405/videos/266718458303296