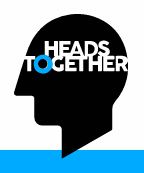 Christmas can be a time for celebration, but it can also be challenging for those going through difficult times. Whatever this festive period means to you, it's important that everyone feels able to manage their mental health throughout the holidays. Whether you're unsure how to cope with the loss of a loved one or the Christmas party is making you feel worried,
Click the following link for tips and ideas
https://www.headstogether.org.uk/tips-on-looking-after-your-mental-healt...