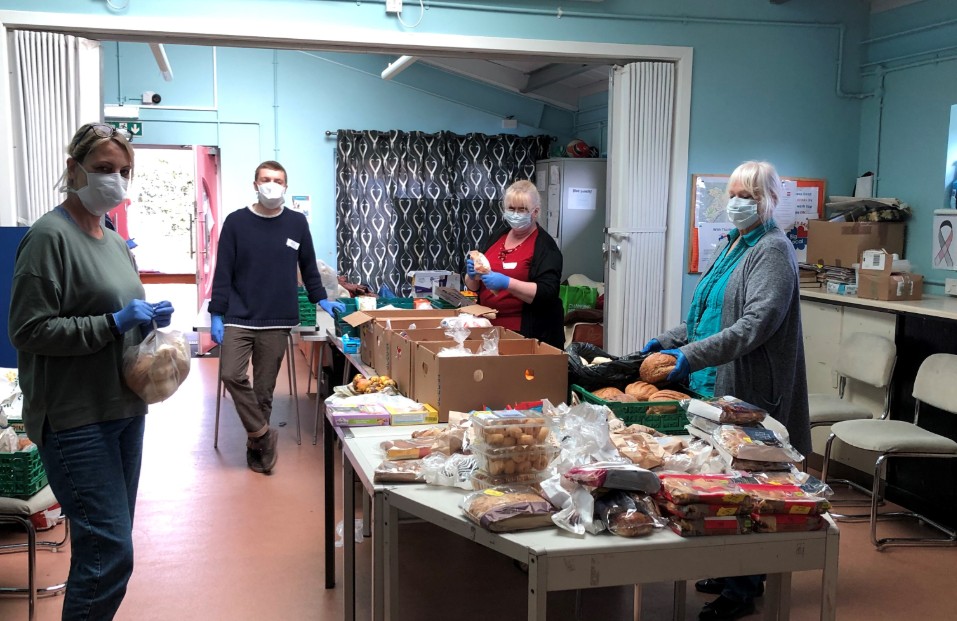 Community members in Broomgrove Estate have come together to launch a new doorstep initiative providing take-away food bags for local residents every Tuesday.
Due to concerns around the complexity of operating within the context of Covid-19, a foodbank previously operating with the Broomgrove Community Centre closed in March. Recognising the ongoing need for food support in the area, Pat Weaver, Group Support Worker at Hastings Voluntary Action, Gill Hazell, Chair of the Broomgrove Residents Association, and Jackie Gaunt, Project Manager Oasis community project-East Hastings, established a collaboration to address the issue. The new team was supported by In2Play and Dom's Food Mission and within 14 days the provision was up and running. The service opened on 14th April, providing food for 121 people including children and many over 65s who were unable to travel to supermarkets.
Jacqui Le Put, In2Play Project Co-ordinator: "We agreed the best way to launch effectively and safely was to use an already trialled and tested method operated by Dom's Food Mission. Dom fully endorsed us adopting his Covid -19 structure. We meticulously planned the process and established a transparent and audited way of working that everybody could work with."
Dom Warren, CEO Dom's Food Mission: "For us here at Dom's Food Mission we pride ourselves on helping as many people eat as we can and for always doing our best to improve yesterday's purpose! But having seen the wonderful group of people within the Broomgrove scene and the heart that's in the volunteers my charity was instantly on board to help as much as we can!"
Pat Weaver, Hastings Voluntary Action: "The service can now roll out to more residents. This is a doorstep community initiative, the Broomgrove Estate is the priority, however no one will go away empty handed if there is enough food, and hopefully more people from the Broomgrove Estate can register, bring a bag and take advantage of this much needed provision".
 
The scheme is open to all Broomgrove Residents who register first by calling the number on the Broomgrove Community Centre noticeboard.
All Hastings residents who need support, or their friends, family or carers, can contact Hastings Borough Council on a special helpline: 01424 451019, open 9am – 5pm Monday – Thursday, 9am – 4.30 pm Friday. 
Support is also available from HEART (Hastings Community Response Team). Visit the Hastings Heart website to ask for help with shopping, collecting medications, posting mail, dog walking or other errands and support:  www.hastingsheart.com