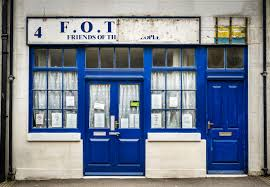 HVA have held the assets of FOTOP under the terms of a Statutory Order from the Charities Commission and have been requested by them to ensure that they are deployed in the interests of the Charity's beneficiaries (ie Older People in Hastings).
HVA undertook consultation in the form of 2 open meetings, a briefing and discussion with the Hastings and St Leonards Seniors Forum and a conference "Ageing well in Hastings and St Leonards" attended by over 60 delegates. From this process consent was obtained to sell the FOTOP building and invest this and other financial assets of the Charity into a project which would create an older people's hub at Central Hall. To this end we have developed a partnership with AgeUK East Sussex and have been pursuing other funding and negotiating with Hastings Borough Council who own the Central Hall building.
A proposal relating to this project has been submitted for consideration as part of the recently announced Town Deal process which offers capital funding to renovate Town Centre buildings and re-purpose them.
A number of expressions of interest have been received and considered in regards to the sale of 4 Middle Street. One of these resulted in a formal written offer but, possibly as a result of the financial uncertainty of COVID 19, this has recently been withdrawn. We have therefore taken a decision to market the building for public sale via local agents Dyer and Hobbis.
More recently we have been actively engaged in the work to acquire the Isabel Blackman Centre and over £400,000 (separate to the FOTOP assets) has been raised through the collective efforts of HVA, Hastings Old Town Residents Association, the Seniors Forum and AGEUK East Sussex. Contracts have been exchanged on the building and completion is expected over the next period.
The acquisition of the Isabel Blackman Centre led the HVA Trustees to revisit the scope of how the assets of FOTOP should be used. They took a decision that the assets would be potentially available to support 3 areas of activity:-
1. The development of an Older Peoples Hub at Central Hall
2. A contribution towards future services at the Isabel Blackman Centre
3. Work to obtain formal designation of Hastings Borough as an Age Friendly community as part of the Centre for Ageing Better scheme
A further round of consultation was then undertaken which unanimously supported this principle.
Although the COVID 19 pandemic has caused some unavoidable delay in the process, once the building in Middle Street is sold HVA will ensure, in collaboration with the Charities Commission, that its assets are deployed to support work and services for the older people of Hastings. At this point we will be producing final financial records for submission to the Charities Commission following which the FOTOP Charity will formally be closed.  
For further information please contact Steve Manwaring on steve@hastingsvoluntaryaction.org.uk