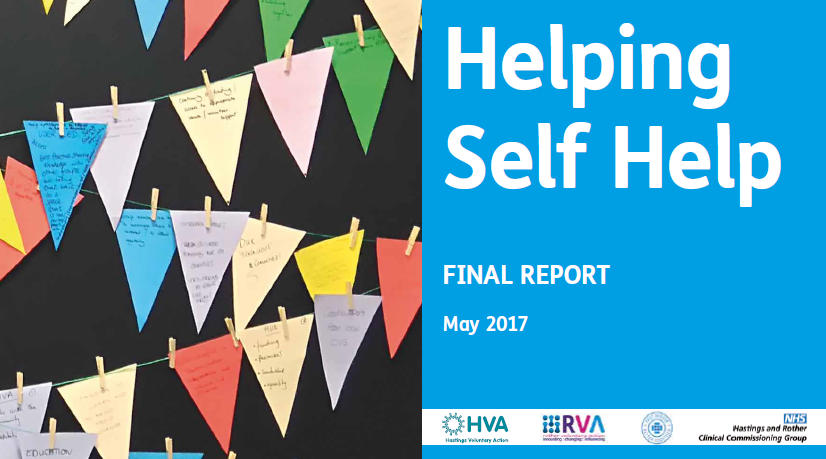 Turning negative into positive with Self Help across Hastings and Rother
When you are first diagnosed with a condition, or faced with long-term health challenges, the support of people who have been through the same experience is invaluable.
Hastings and Rother Clinical Commissioning Group (CCG) invested in an 18 month project to develop a better understanding of the local groups and networks that support people living with a long-term condition. Hastings Voluntary Action (HVA) and Rother Voluntary Action (RVA) - the support organisations for charities, community groups, voluntary organisations and social enterprises - have worked in partnership to bring together a large number and diverse range of Self Help groups. It has been recognised that these groups and volunteers play an invaluable role in helping people adapt and live with conditions that can be life limiting, and by doing so, can positively contribute to a person's overall sense of health and wellbeing.
Over the last year, groups were invited to be part of, and take a lead in, planning a much needed opportunity for reflection and dialogue between local support groups and health and social care professionals. Much of the work involved varied training opportunities, and responding to groups to help them reach new users and volunteers through social media and the press. A varied range of networking events have been a vital source of insight and intelligence for all involved, but have also reminded us what incredible work is being done at a local level. Although the groups are generally relatively small, together they are making a real and tangible difference to many local people.
"To develop a strong working link between the voluntary sector and health and social care professionals" was crucial learning feedback from one of the groups at the large networking event held in March earlier this year.
The greatest thanks must go to all the members of the voluntary sector groups who generously gave up their time to work together to help develop better support and communication channels across Hastings and Rother.
The Helping Self Help final report can be found below as well as http://selfhelpers.rva.uk.com/ - a new resources site for Self Help Groups.
If you would like to be kept up to date with community news, training and local networking events contact Hastings Voluntary Action on 01424 444010.