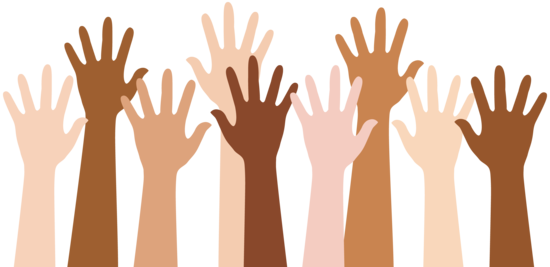 We are gathering details of organisations and initiatives that currently need more volunteers. Please do offer your help if you are able to.
Alternatively, if you can't find a suitable opportunity for you on the volunteering list below, give us your details on this registration form, and we will be in touch with you to identify ways that you can help others.
Last updated: 16th April 2021
Groundworks are currently offering a range of outdoors volunteer activities including gardening and planting, stream maintenance and wild flower auditing. For more details email greenerfutures@groundwork.org.uk or contact Paola on 07736 132772.
Hourglass are currently looking for home-based helpline volunteers. Your role will include providing advice and support to callers, making referrals and sharing and logging information. Training is provided. To apply or find out more please contact gailshanahan@wearehourglass.org or call 07508 823975 
Friends of the Conquest are looking for volunteers to work afternoons 1.30-5pm in their flower/gift shop on Mondays, Tuesdays or Fridays. DBS paid for by the Hospital Voluntary Services, apron supplied. To find out more contact Jayne White on whijy5@aol.com
Fellowship of St Nicholas are looking for people to join their Board of Trustees. This is a voluntary position which may suit existing Trustees or someone looking to take their first step at Board level. To find out more go to fsncharity.co.uk or contact jearl@fsncharity.co.uk
Seaview Homeless Project are seeking male volunteers to help out with general tasks. They are particularly keen to hear from anyone who has previously worked with marginalised groups but are open to hearing from anyone looking to gain experience in this area too. To find out more contact admin@seaviewproject.org.uk  
Association of Carers is recruiting new Trustees.Association of Carers aims to build and strengthen support networks for carers, as well as raising the profile of carers within their local community by highlighting the invaluable work that they do.We are seeking new trustees to help ensure we are effectively managed, and to help develop and grow the charity, enabling us to reach even more carers and support them at a time when they often need it most. To apply please get in touch on 01424 722309 / info@associationofcarers.org.uk
Southdown Housing are seeking People in Partnership volunteers to help improve mental health, emotional and wellbeing support across East Sussex. As a volunteeryou will be invited to share your experiences with other and will be supported in doing so . To find out more contact Mel Wilson on 07964 206828 or via email on mel.wilson@southdown.org
St Michaels Hospice – Currently have a variety of remote volunteering opportunities available including Wellbeing IT Tech Buddy, E-Learning / IT Support Buddy, Telephone Befriending, Wellbeing Correspondence and Wellbeing Remote Support. Here is a link to the recruitment page for these roles: https://www.stmichaelshospice.com/index.php?p=support-us/roles-available
Project Art Works - have a new volunteering opportunity and are looking for someone to support the Support Collective through attending zoom meetings, taking notes, internet research and being a friendly face when supporting this group. Find out more about the role and apply at https://projectartworks.org/the-organisation/volunteering/.
  Sussex Police and Fire Cadets are looking for volunteers to help out with their cadet units. Help is needed for 2.5 hours max a week although there may be additional hours in the Summer when volunteers are needed. You will need to be over 18 years of age and will be DBS checked. For more details contact marianne.hoveden@sussex.pnn.police.uk  
Optivo Housing are looking for Wellbeing Champions to engage with Optivo residents and promote all the social activities that are on offer including health and wellbeing,employment support and volunteering opportunities. To find out more contact volunteering@optivo.org.uk or call 0800 1216060. 
Sussex Partnership Trust are looking for Discharge Support Volunteers to provide practical, emotional and social support to patients just before they are discharged from The Woodlands Centre for Acute Care, in Hastings. The Woodlands Centre provides inpatient care for adults with acute mental health conditions.  This support will be tailored to the individual patient's needs and is open to patients who are 18 years or over. For more information and to apply for the role, please visit our web page www.sussexpartnership.nhs.uk/volunteer
Hastings Independent Press need new volunteers on their staff team. If you can help with fundraising, advertising, sales and marketing or writing articles then get in touch on info@hastingsindependentpress.co.uk
 Big Local North East Hastings are looking for people who live in that area to join the Resident Led Partnership. The RLP meet monthly to make decisions about spending lottery funds in that area. To find out more about the role and whether you live within the Big Local boundary contact Jan on 07968 828230 or email jan@hastingsvoluntaryaction.org.uk
Hastings Community Transport currently have volunteer opportunities for drivers, bus buddies and shoppers. To find out more any of these roles contact Lorna on info@hastingsct.com or phone 01424 436868 Mon-Thurs between 9-12 noon. 
Citizens Advice 1066 urgently require front line volunteers who can give advice via phone or email at a time when their services are in greater demand than ever before due to Covid. Training and claiming back of volunteer expenses is available. For an application pack please email recruitment@citizensadvice1066.co.uk or phone 01424 721458 for a chat.
Education Futures Trust are looking for volunteer drivers to help deliver food hampers to individuals and families in need. If you have time to spare on a Monday, Wednesday or Thursday then please contact Rae on 01424 722241 or by email on rae@educationfuturestrust.org
Garden and courtyard volunteers at Conquest Hospital- Looking for volunteers to help enhance the outdoor areas of the hospital site and to maintain the courtyard gardens around the site. For more info call 07855 145622.
Is your group or organisation seeking new volunteers to support your current provision? Or are you looking for volunteers as part of new plans you are putting in place at this challenging time? If so, please do let us know by emailing Debby on debby@hastingsvoluntaryaction.org.uk or by calling 01424 444010.
HVA will be collating the information and sharing via our website, e-bulletins and social networks to help match willing volunteers with need in the local area.